---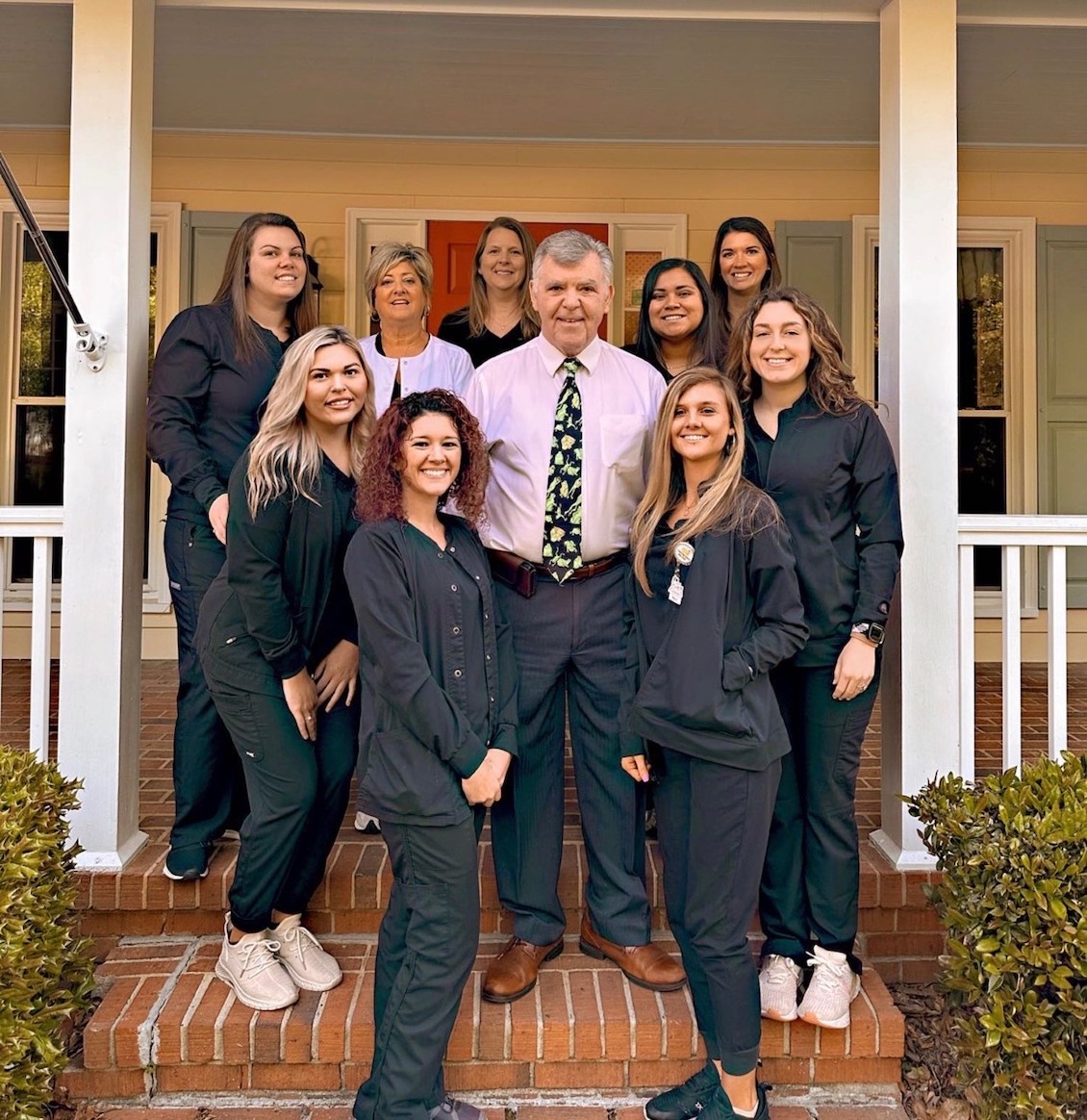 ---
Chrissy Bunch – Administrative Assistant
Chrissy has been an administrative assistant with us for eleven years. She graduated with a degree in business management from Brenau University, and has certainly brought that valuable knowledge to bear in her time at our office.
She has a vibrant energy and sincere compassion which makes the front desk a place where patients can feel comfortable and welcome. Chrissy also enjoys working behind the scenes, making sure that everything is running as it should be. A well-oiled machine is going to be all the more able to positively affect the patients it serves.
Outside of the dental office, Chrissy channels that energy into traveling, attending church activities, and spending quality outdoor time with her two sons who are now ten and twelve years old.
---
Carole Manning – Orthodontic Assistant
Carole has been with us for thirty-nine years! We couldn't get along without her vast experience and love for learning.
Outside of learning every single day, the thing Carole loves best about working in a dental office is changing people's lives. As our orthodontic assistant, she does this by healing and repairing smiles. She truly cares about each patient who comes through, and does her best to give them the healthy mouth they deserve.
Carole is the grandmother of a brand new granddaughter named Mary, whom she very much adores. Her goal is to be the best grandma ever. She also loves cooking, gardening, and getting in plenty of beach time at Fripp Island.
---
Haley Swearingen
As an appointment coordinator, Haley helps out the office by coordinating all of our daily appointments. It is a lot easier to come to work knowing that we will get to interact with Haley's fun and collaborative personality. Patients are used to walking in and seeing her greet them with a friendly, infectious smile.
Haley is currently in the process of obtaining a Bachelor's degree in Business Administration from Ashford University, and expects to graduate in 2022.
At home Haley enjoys camping, fishing with her husband, Brian, watching the Clemson Tigers, and spending time with her two sons, Jaiden and Landon. She also considers herself an autism advocate in honor of her son.
---
Meghan Braswell
Meghan joined our practice as a dental assistant just a few months ago, and we are excited to be working with her! She is a team player with an enthusiasm for delivering excellent service in a group setting.
Meghan has a passion for making a difference in the oral health of children, and she likes to go out of her way to help them feel comfortable and have the best experience possible during their visit.
During her spare time, Meghan likes to enjoy time outdoors with her 5-year-old son Karder and has a particular interest in crafting. Meghan loves being a mom, and she is emphatic that Karder is the best kid ever.
---
Michelle Barton
Michelle has been our back office assistant and technician for a year now, and we've loved having her!
Michelle loves learning new things, and during her time here, she has helped out with a variety of tasks. On a daily basis she sterilizes our surgical equipment and has demonstrated a knack for customer service with the wonderful, energetic conversations that she frequently has with parents.
She has a lively personality and credits this for being the reason that she is able to get along so well with the children that we see and her fellow coworkers.
You can frequently find Michelle working out at the gym, having fun with her family and friends, and travelling.
---
Kristen Oglesby
Position/Title: Dental Hygienist. Education: Bachelors of Science in Dental Hygiene, 2009. How long have you been with the practice? 8 years. Would you like to mention your family? Married 10 years on 10-12-23. I have two boys: Connor and Holden, age six and four, and a labrador named Paisley. What are some of your hobbies? Spending time with family, traveling, and reading. What do you like best about being a part of the practice? Working with the kids, learning more about them, and helping them learn how to clean their teeth better. How do you contribute to the success of the practice? By being a team player and cleaning teeth.
---
Elizabeth Barajas 'Lizzy'
Position/Title: Certified Dental Assistant/Expanded Duty Dental Assistant. Education: Aiken Technical College, Dental Assisting Program, 2020 and Dental Assistant National Board Certified since July 2020. How long have you been with the practice? About 2 years. Family life? I will be getting married Spring of 2024 to my high school boyfriend. What are some of your hobbies? I enjoy spending time with my dogs and my niece and nephews, we spend a lot of time outside walking the dogs or playing a competitive round of soccer. What do you like best about being a part of the practice? Patient comfort is what is most important to me, I enjoy being able to comfort and get patients through difficult procedures with a smile on their face. How do you contribute to the success of the practice? I contribute by giving each and every child the best experience while getting operative treatment, as well as being bilingual.
---
Samantha Correira
Position/Title: Appointment Coordinator/Dental Assistant. Education: Dental Assistant Certification, 2019. Currently in school to complete my Associates in Applied Health Science. Aspiring to one day get my Bachelors degree in Dental Hygiene. How long have you been with the practice? 1 year. Family life? I have a boyfriend, Tyler, and we have two fur babies: Finley and Gunner. What are some of your hobbies? My favorite hobby consists of going to the lake with my dogs, traveling and spending way too much time in TJ Maxx. What do you like best about being a part of the practice? The most rewarding thing about working at APD is seeing all the smiles and knowing I am making a difference in a child's life and giving them the best dental experience possible. How do you contribute to the success of the practice? I am very flexible when it comes to working up front coordinating appointments as well as working in the back, chair-side.
---
Tiffany Dubber
Position/Title: Dental Assistant. Education: Alken Tech, graduated with honors May 2021. How long have you been with the practice? 1 year. Family life? Married, mother of three. What are some of your hobbies? Going to the movies, the zoo and aquarium, the beach, and traveling. What do you like best about being a part of the practice? I enjoy my patients the most, hearing about their day and lives and making their visit a good experience.